Mustang Tech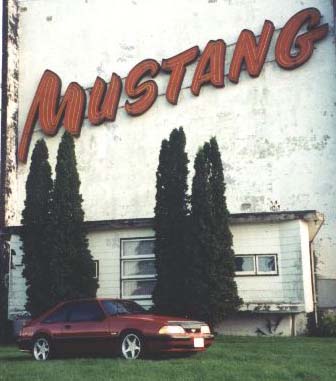 I have a 1989.5 Mustang LX Hatchback, canyon red, 5.0L, 5 spd, 3.08 gears... ENGINE: GT40P iron heads (pollished, milled 0.030", competition valve job), 10:1 compression, Crane 2031 cobra cam (214/220,.513/.529",112LSA), Trick Flow (1pc 4130) pushrods, 1.7 roller rockers, Manley Race Flow Valves, ARP Head Studs. INTAKE: Explorer U/L (pollished & port matched lower), Stock TB (reemed to death), Bullet 75mm MAF, 3" Rubber elbow (Crappy Tire plumbing section), Conical filter. EXHAUST: FMS C50 headers (#8 dimpled with BFH), Catco Hi-flow cats, Dynomax 2.5" cat-back. ELECTRICAL: 130 Amp 3G alternator, Crane PS91 coil, Taylor wires with 90* boots & sleeves, (TwEECer in my dreams). COOLING: FMS A/C delete, Stewart WP, 93 Cobra overdirve WP pulley (March underdrive crank), Mr. Gasket Hiflow 180 therm, 3 core rad, Mark VIII electric fan, Variflow controller. CHASSIS/SUSPENSION: SN95 conversion with '99 Calipers, 99 Cobra wheels, Bilsteins with coil-overs, WMS SFC's, MM 4pt chassis brace, MM C/C plates, Fabricated STB, relocated battery.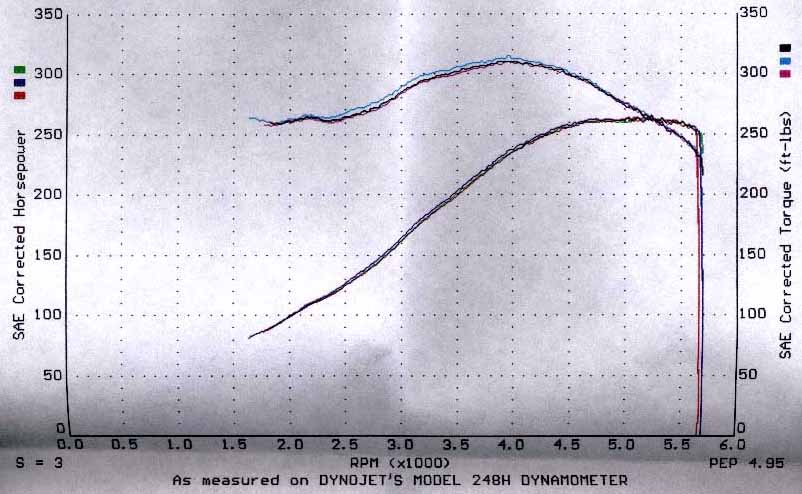 ARTICLES:
Head swapping - On a stock & a typical combo. Fan HP - What a drag! Suspension info Fuel injection info Motor Oil info Muscle Car Times Ford V-8 Engine Workshop! I found this on the net before the link disappeared. It was written by William R Lewis... unfortuantely I didn't get any pics. (it needs some formating... it doesn't look too pretty) Info to come: Winter Storage, Pollishing Aluminum, My 'P' heads, Explorer Intake, Picking a Cam, First Start-up, Power Steering Whine, Brakes, 5lug conversions, Long Rods...

Great Mustang Boards:

Corner-carvers - Best Corner Carvers forum (great suspension info) The Corral - Has stood the test of time (great tech & How To's) MustangWorks - Great late model tech forum, good tech info FordMuscle - Newer page, VERY informative MustangWorld - Current articles and good tech info Stangnet - Current tech articles. Mustang-Camaro - Good articles etc.

Great Webpages:

Fletch's 5.0 - GREAT tech articles (5L Head Flow #'s, Combo's...)

GT40P Heads other flow data & porting

Matt90GT's page - 5lug & brake upgrades

Spring Rates - great list

Explorer Intakes & other flow data

GT Registry - Info for each year

Physics of Racing - For the intelectual types

Retail:

Maximum Motorsports - Beefie Products Global West - Some Good Suspension Products Griggs Racing - Popular Suspension Products OEM Ford Parts - SVO & Classic (good pricing) Performance Parts Inc. - Competitive prices, Jim's the man. Mustang Parts Specialties Inc. - New & used parts Diversified Products Marketing - Great prices J&M hotpart's - Cheap MM knock-offs Blue Thunder - Cup Holders! Can get an ashtray insert, or larger arm rest! R&E Racing - Great prices, good mail order Hawaii Racing - Great prices, Great Customer Service KarKraft - Great prices, Detroit area.

Turbo links (Blow it Baby!):

Junkyard Turbo's - Ton's of info for the budget minded

TurboFord.org - Even a message Board!

Intercooler - How does it work?

Ryan's Turbo Mustang - great info!

Turbo Upgrades - Crazy Guy, good info.

Car Tech - Turbo Products

351 Twin Turbo! - It got me excited (very budget)

TurboCity - $99 used turbo + $75 rebuild kit = AWESOME DEAL

Other stuff

CNBC - Check out the stock market E*trade Canada - Decent place to trade

Stang Techies have visited!